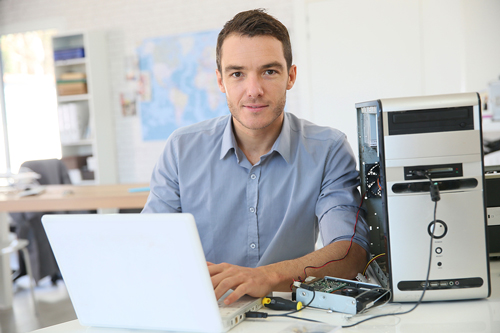 When the clock is ticking, network repair can't wait. Whether you're fighting printers that won't respond, a network that's slowed to a crawl, inconsistent connectivity, or a cyber-attack from disgruntled ex-employees, bored teenagers, or devious competitors, you need to know your problems will be short-lived. Small problems in your network can quickly pile up into bigger ones impacting your entire organization—and that's not even considering how such problems might affect your reputation, as the issues begin to impact your clients and customers.
Potential Problems
Computer networks interact with nearly every aspect of the modern business. Such a complex system by its very nature has a lot that can go wrong with it, ranging from frustrating or inconvenient issues to catastrophic failures. Here are just a few of the issues you might be having with your network:
No internet

Inconsistent connections

Inability to share between machines

Wi-Fi issues

Difficulty utilizing SaaS solutions

Bottlenecks

Access control issues

Unreliable backup systems

Failure of physical hardware

Wiring issues
Any one of these problems has dozens of potential causes and solutions, making network repair one of a more difficult tasks for non-specialist IT teams to navigate. Poor connectivity, for example, could be caused by poor software configurations, dated firmware, hardware failures, wireless interference, or wiring issues. You may search and search for a problem and never find it because it was caused by something happening in a neighboring office.
Solution
When you find yourself facing one or more of these issues, you don't have long to act. Each passing moment of slow or down networks represents wasted employee time, disappointed customers, lost data, or worse. You need a rapid response by qualified technicians. Depending on the nature of your problem and the complexity of the solution, resolving the problem may be a matter handled with a few moments on the phone with an expert, or a task which requires a team to visit and spend the day hard at work. Figuring out which is crucial, and the process can only begin when you make your call.
Improvements
Not all network issues can be resolved with existing hardware. Whether you're dissatisfied with current speeds or functionality, your network has outgrown earlier solutions, or you're simply curious about your options, it's always good to know what improvements could be made. By working with a qualified team, you can not only avoid the pitfalls inherent to enhancing an existing network, you can acquire customized hardware and software solutions not available off the shelf.
Why Us?
You may be wondering why you would choose us to handle your network repair, why we're your best choice for fixes, improvements, and support. Computer Works Inc has provided computer repair and support services to businesses and residents across the Midwest for years. We emphasize customer support, attention to every detail, and maintaining our edge through constant re-evaluation and education. Your network needs all the efficiency and consistency it can get—we can help you maximize that potential.